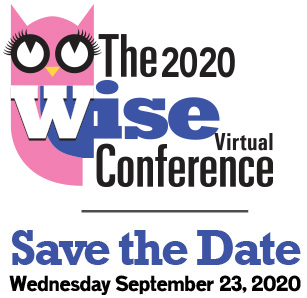 About The WISE Conference 2020 Sponsorship Opportunity
WISE 2020 Showcases your company to 300+ Area Professionals
Take advantage of an incredible, targeted marketing opportunity to spotlight your company to 300+ area professionals. Sponsor the 8th annual WISE 2020 Conference on Wednesday, September 23rd, 2020, hosted online for your convenience and safety.
Sponsorship opportunities are available on a first-come basis. Your company's logo and a link to your Web site will appear every time someone accesses the WISE Conference site. Your company logo also appears in the event program and during the virtual conference. Your company benefits from thousands of impressions and an opportunity to associate your brand with the top Woodlands-area independent networking conference.
Use the event tickets that you receive to reward an outstanding employee, treat a loyal client or encourage a young professional that you're mentoring. This year, the WISE Virtual event includes a virtual online conference, 2 keynote speakers, guest speakers and videos! Individual virtual tickets for attendees are $50.  As a Sponsor, you'll be among the first to know who our Keynote Speaker will be.
The WISE 2020 Conference is a cooperative effort between WOAMTEC and MCABW. WISE — Women Inspiring Supporting Empowering caters to professionals with a desire to learn more about work-life balance.
The WISE Conference 2020 Mission Statement
WISE is committed to the empowerment of women through personal and professional development. WISE is also focused on giving back to local charity organizations in our community. Together we can make a difference. Thanks to the support of local entrepreneurs, educators and corporate channels we have been able to provide the necessary resources to Inspire, Support and Empower.