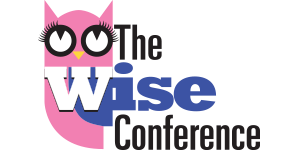 2018 WISE Conference Set to Empower Women
The Woodlands, TX (April 27, 2018) — The six-annual WISE Conference, presented by MD Anderson Cancer Center, is a cooperative effort between Women on a mission to earn commission (WOAMTEC), Montgomery County Association of Business Women (MCABW) and Business Women's Forum, is Wednesday, September 26, 2018 from 9 AM to 4 PM at Lone Star College System, the venue sponsor for the conference.
This one-day conference empowers guests, exhibiting vendors and speakers with numerous marketing and business networking opportunities through special presentations and breakout sessions.
"Year after year, this conference evolves and becomes better and better," said Dawn Candy, event coordinator for WISE. "With a theme of Empowering Women with Knowledge, this education-focused conference gives back to those who could use a helping hand by supporting a local charity with a portion of conference proceeds and awarding scholarships to especially worthy business women."
Rebekah Gregory, a 2013 Boston Marathon bombing survivor who has a powerful story of strength and resilience, is this year's keynote speaker.
Michelle Merhar, former FOX 26 Anchor and Traffic Reporter, is returning to emcee the event. The Community Leaders panel includes CEO of The Blair Law Firm, Manager of Blair Investments Global and operations overseer of the Conroe ISD Education Foundation Nelda Luce Blair, Business Development and Regional Marketing Director for Memorial Hermann The Woodlands Medical Center Linda Manhardt Nelson, and Chairman of the Township's Economic Development Committee and Executive Director of Generosity at The Woodlands United Methodist Church (TWUMC) Dr. Ann K. Snyder.
There will also be other speakers during breakout sessions, covering such topics as leadership development, strategic marketing and social media marketing.
The University of Texas MD Anderson Cancer Center has graciously agreed to be the Presenting Sponsor for this year's conference.
This year's conference is proud to donate a portion of this event's proceeds to MercyHouse Organization, which creates new, independent lives for women and children who have been victims of verbal, physical or emotional abuse.  To learn more about this 501(c)3 organization that offers educational support system programs, outreach services, community collaborations, financial assistance, legal services, safe shelter and life skill workshops, visit www.MercyHouseSite.org.
Lone Star College System is located at 5000 Research Forest Drive in The Woodlands, TX 77380. The conference is being held in the Lone Star Community Building.
Founded in 2012 by Kiki Koymarianos and Carol Gooch, WISE has a mission to inspire, support and educate women through educational and motivational seminars for professional and personal development. The WISE 501(c)3 organization is focused on fundraising for local non-profit organizations in our community.  These supportive events bring business entrepreneurs together to inspire, support and empower each other while giving back to those in need around Montgomery County. To learn about sponsorship opportunities and ticket sales for this event, visit www.thewiseconference.com/conference-info/.